Turfguard Wireless Soil Monitoring System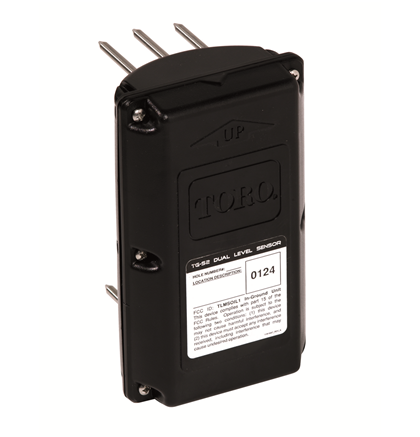 Key Features
Monitor moisture levels and adjust irrigation
Track salt build-up and schedule flushing
Monitor daily soil temperatures
Wireless network
The Turf Guard Wireless Soil Monitoring System. Get the essential soil information you need, when you need it. Stay up to date on your current soil conditions no matter where you are. Get the information you need to make important decisions in real time. Turf Guard sensors instantly track soil moisture, salinity, and temperature, saving you time. Repeaters mount easily inside all Toro Network VP® , Network LTC® Plus, and E-OSMAC® satellite pedestals. Additional Resources www.turfguard.com  (this link will take you to an International Toro site).
Input Power:

Repeater: <0.02A @ 6 VDC
Base Station Input: <0.1A @ 120 VAC, 50/60 Hz

Dimensions:

Body: 50 x 92 x 155mm
Spikes: 44 x 4.8mm
Installation Hole Diameter: 108mm

 

Temperature:

Operating: 0°C to 60°C
Storage: -30°C to 82° C

Sensing:

0.1° C Temperature resolution
0.1% Volumetric soil moisture content resolution
0.1 dS/m Soil conductivity resolution (Salinity)

Communication:

Repeater Range: 457m line-of-sight
Buried Sensor Range: 152m line-of-sight
915.5 to 927.5 MHz Communication
Additional licensing not required.