STX-38 Stump Grinder (23214)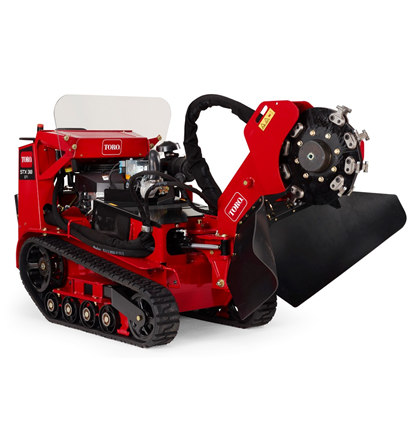 Request A Demo
The Toro STX-38 Stump Grinder is built for outstanding durability in the toughest conditions. Fully hydraulic operation means no chance of expensive belts breaking or slipping and no tension adjustments.
The Inteli-Sweep feature automatically slows the sweep speed of the cutting head based on the load of the wheel, so heavy cutting loads won't bog down the engine. And with easy-to-use TX-style controls and tracks for maneuverability and stability, the STX-38 is extremely operator friendly. The STX-38's electronic fuel injection (EFI) engine provides less maintenance, easier starting, and improved performance. Best of all, ground speeds of 8 km/h allow you to spend more time grinding and less time transporting the machine for greater productivity.
Engine

34.8 hp Kohler® Command PRO ECV980, 999 cc, 4-cycle petrol air-cooled, V-twin

Cutter Depth

45.7 cm below grade

Cutter Height

89 cm above grade

Wheel

56.5 cm diameter to tooth; 2.54 cm thick

Number of Teeth

16 (8 per side)

Head Swing

132.1 cm radius x 60° sweep arc

Ground Speed

8 km/h

Dimensions

Length: 241 cm
Width: 84.6 cm
Height: 128.8 cm

Weight
794 kg
Warranty*

2 years/1000 hours limited warranty

*See your certified Toro dealer for full details on warranties.
You May Also Like