Workman® HDX-D 4WD (07387TC)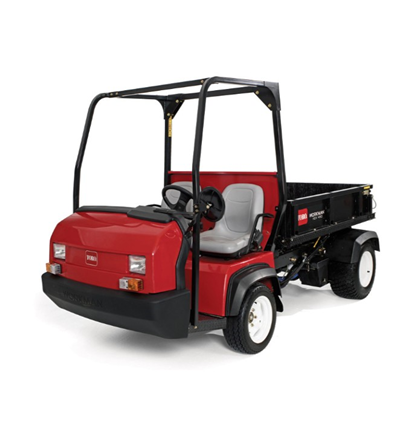 The Workman® HDX-D 4WD is a tough, 4-wheel drive diesel vehicle providing durability, excellent driving performance and versatility.
The Workman® HD Series is designed with your toughest work challenges in mind, from the front bumper to the rear bumper and everything in between. Design components like an I-beam shaped DeDion rear axle, a truss-like front space frame, integrated wheel bearings and hydraulic disk brakes on all four wheels provide one of the highest total carrying capacity in the industry and make the Workman® ready for the toughest challenges.
| | |
| --- | --- |
| Engine | 898 cc Kubota® 902D Liquid-cooled diesel 23.3 hp (18.5 kW) |
| Brake System | 4 wheel hydraulic disc brakes. |
| Total Capacity | 1,286 kg |
| Four Wheel Drive | Automatic, on-demand, bi-directional system. |
| Front Suspension | Independent double A-Frames with opposing dual coil springs and dual shock absorbers provides 14.6 cm of front suspension travel. |
| Rear Suspension | DeDion rear axle and dual independent leaf springs and shock absorbers to provide 7.6 cm of rear travel. |
| Turning Radius | 50 degrees |
| Warranty | 2 year limited warranty. Refer to operator's manual for further details. |
You May Also Like