TRX-300 Walk-Behind Trencher (22984)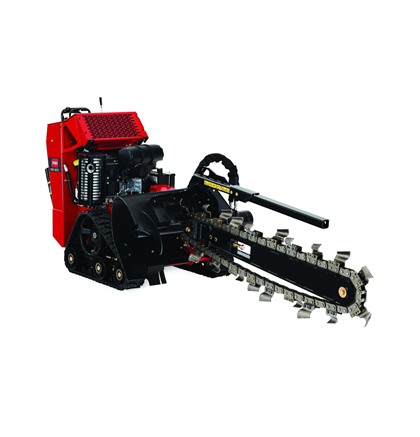 Toro TRX walk-behind trenchers are now more efficient and powerful than ever. We've improved our lineup with two new models that combine the groundbreaking manoeuvrability the TRX walk-behind trencher is known for with even better performance and serviceability.
The new TRX-300 trenchers incorporate new design enhancements for better ease of operation, improved hydraulics and streamlined controls.  These new TRX trenchers also include the new Intelli-Trench™ technology to automatically adjust the hydraulic flow allowing power where needed to maximize productivity.  Plus, these new TRX trenchers offer significantly less parts resulting in less maintenance over time.  
Engine

26.5 hp (19.8 kW) @ 3,600 rpm Kohler® ECV749, EFI

Cooling System

Air Cooled

Fuel Capacity

15.1 litres

Engine Oil Capacity

1.9 litres

Start Method

Electric

Hour Meter

Standard

Transport Speed

3.7 km/h (2.3 mph) / 2.4 km/h (1.5 mph)

61.6 m/min (202 ft/min) /40.2 m/min (132 ft/min)

Hydraulic System Pressure

2,610 psi

Hydraulic Flow

50.0 lpm Traction

61.3 lpm Transport

11.4 lpm Trenching

Hydraulic Oil Capacity

23.8 litres

Headshaft Speed

210 rpm with 334.64 m/kg (498 ft/lbs) of torque

Track

Width : 15 cm wide - endless nylon reinforced rubber track

Drive : Sprocket-drive, three road wheels per side

Traction : Two-section hydraulic pump with two hydraulic motors (one for each track)

Ground Pressure

61 cm (24") boom = 0.28 bar (4.1 psi)

91 cm (36") boom = 0.30 bar (4.4 psi)

122 cm (48") boom = 0.31 bar (4.5 psi)

Dimensions

Overall dimensions with 24-inch Boom Up and Chain (WxLxH) : 86 cm x 210 cm x 117 cm (33.8" x 82.5" x 46")

Wheelbase : 58 Cm (23-inches)

Weight : 501 kg (1,114 lbs)

Boom Options

Depths : 61 cm, 91 cm and 122 cm (24-inch, 36-inch and 48-inch)

Widths : 10 cm 15 cm and 20 cm (4-inch, 6-inch and 8-inch)

 
Chains

10.2 cm (4-inch), 15.2 cm (6-inch) chain widths available:

Soil & Cup Chains

Rock & Cup Combo Chains

Shark (Rock) Chains

Bore Drive Head

Easily bore under driveways and sidewalks to simplify irrigation and cable installations. Design allows for boring unit to be lowered into the trench to aide in level operation.

Backfill Blade

Installed in less than a minute without tools to allow TRX to complete trenching job. Cut job time and labor by using the TRX to backfill the open trench efficiently.

Trencher Boom

60.96 cm (24-inch), 91.44 cm (36-inch) or 121.92 cm (48-inch) reversible booms available.

Trencher Crumber

The Toro crumber is designed specifically to make the trench bottom clean and smooth. The crumber follows behind the chain to clean all "crumbs" from the bottom of the trench. The hardend tip of the crumber pulls any loose material back into the chain teeth.