Brush Cutter BRC-28 (23522)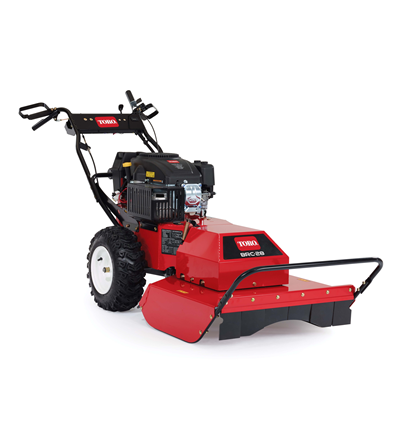 The Toro product line-up has expanded with the addition of the 71.1 cm hydraulic drive brush cutter. The commercial-grade self-propelled brush cutter allows operators to level brush, tall weeds, saplings and heavy vegetation with ease. The Toro hydro drive brush cutter, featuring a pivoting deck, can handle brush up to six feet tall and saplings up to two inches in diameter.
Engine

14.5 hp (10.8 kW) Toro single cylinder, 452 cc

Start

Electric

Fuel Capacity

3.8 litres

Transaxle

Hydrogear T2

Deck

50 ksi high-strength steel
Pivoting +/- 10 degrees with spring return

Spindle Diameter

3.56 cm

Cutting Width

71.1 cm

Cutting Height

Fixed at 9.5 cm

Dimensions

Length: 225 cm
Width: 88.9 cm
Height: 110.3 cm

Weight

170.6 kg

Warranty*

1 year warranty

*See your certified Toro dealer for full details on warranties.