W320-D Series II Compact Utility Loader with Remote Control (RC320D)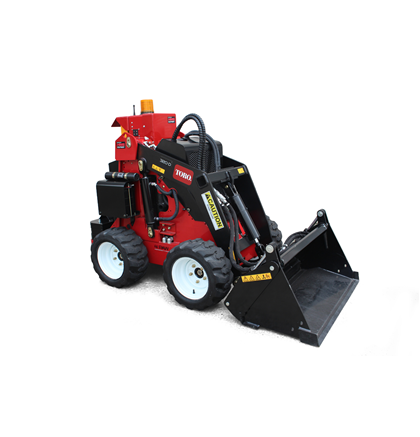 Toro's W320-D Series II compact utility loader gives you greater capability and effortless manoeuvrability, increasing productivity with less time in a short learning curve – even for inexperienced operators. Designed specifically for professionals, this machine is an innovative, rugged and reliable piece of equipment for virtually any job. The W320-D Series II is now available with a Hetronic Industrial Radio Remote Control (RRC) System.
The Toro wheeled W320-D diesel compact utility loader is built to deliver a high power-to-weight ratio in the compact utility loader category. At only 104 cm wide and zero turn capability, this compact utility loader can access confined spaces and its short length contributes to efficient trailering. With 4 Paw independent 4-wheel drive traction system, it's sure on its feet in any environment, wet or dry. The Toro wheeled compact utility loader is, without doubt, built for Australia's tough conditions.
Encased in a tough, IP65, fiber enforced polycarbonate case, the lightweight, ergonomic radio remote control by HMS Equipment, is rugged and reliable; engineered for the toughest industrial environments. Offering increased safety, productivity and operational efficiency, the new TX 1000 with remote control uses patented User Interface (UI) technology for optimal control and reliability. New, fully proportional, electro-hydraulic valves deliver precise and repeatable movement under all working conditions.
Engine

20 hp Kubota® liquid-cooled Super-Mini Series diesel

Wheelbase

71 cm

Wheels

10" x 6", five bolt, centre drop, heavy gauge steel

Fuel Capacity

15 Litres

Ground Speed

3 km/h

Hydraulic System

Hydraulic Pressure: 3,250 PSI

Hydraulic Flow: High-Flow Circuit: 40.9 lpm (9 gpm) at 3600 rpm

 

Hetronic Radio Remote Control

Frequency range: 434 Mhz

Bandwidth: 25 kHz

Safety address: 20-bit (over 999,999 individual possibilities)

Transmitter: Ergonomically designed housings, fiber enforced polycarbonate (PC)

Transmitter: Environmental Protection: IP 65 (exceeds Nema 12/13)

Certificates: RCM, CE, TUV, SUVA, ISO 9001 and compliance with AS/NZS 4240.1:2009

 

Warranty*

2 years/1000 hours limited warranty

*See your certified Toro dealer for full details on warranties.