W320-D Series II Compact Utility Loader (22337CP)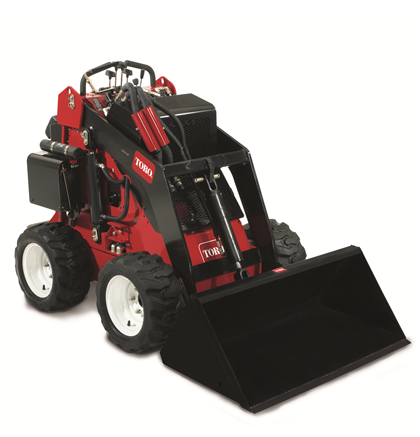 Request A Demo
The Toro wheeled W320-D Series II diesel compact utility loader is built to deliver a high power-to-weight ratio in the compact utility loader category. At only 104 cm wide and zero-turn capability, this compact utility loader can access confined spaces and its short length contributes to efficient trailering. The removable counterweight allows for added lift capacity or increased down pressure for optimal attachment performance. With 4 Paw independent 4-wheel drive traction system, it's sure on its feet in any environment, wet or dry. Toro's wheeled compact utility loaders are without doubt built for Australia's tough conditions.
Engine

20 hp Kubota® liquid-cooled Super-Mini Series diesel

Wheelbase

71 cm

Wheels

10" x 6", five bolt, centre drop, heavy gauge steel

Fuel Capacity

15 Litres

Ground Speed

0 - 4.8 km/h forward or reverse (infinitely variable)

Dimensions

Length: 208.8 cm with bucket, 157.5 cm without bucket
Width: 104 cm standard tyres, 90 cm narrow tyres
Height: 123.7 cm

Warranty*

2 years/1000 hours limited warranty

*See your certified Toro dealer for full details on warranties.
You May Also Like