TX525 Wide Compact Utility Loader (22324)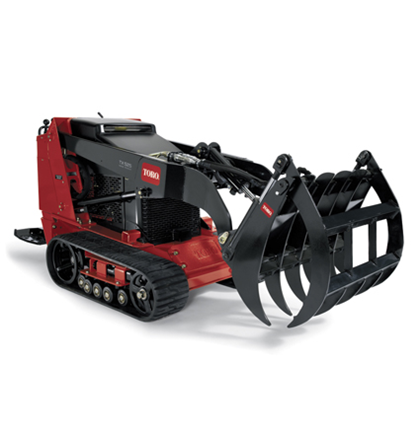 Request A Demo
The Toro TX525 Wide Track Compact Utility Loader with Kubota® diesel engine possesses the versatility to handle countless jobs on every site: dig, haul, plant and build. Designed with workers in mind and with exclusive easy-to-use TX control system and the walk-behind design, the TX compact utility loader makes productivity a snap for all levels of operators. A two-stage, heavy-duty, remote air cleaner is contained under the hood, so it is not prone to damage and sight lines are not impaired. The Toro tracked TX525 compact utility loaders are the most versatile, reliable and hardest working on the Australian market.
Engine

25 hp Kubota® diesel

Track

The tracks are Kevlar reinforced, endless rubber rings with 28 internal drive lugs. The outer tread on the tracks is a turf-friendly S-shaped pattern with pitched crosscuts.

Track Width

24.1 cm

Fuel Capacity

22.7 Litres

Ground Speed

Forward: 0-7.2 km/h, Reverse: 0-3.2 km/h

Dimensions

Length: 233.7 cm with bucket, 180 cm without bucket
Width: 104 cm
Height: 117.1 cm

Warranty*

2 years/1000 hours limited warranty

*See your certified Toro dealer for full details on warranties.
You May Also Like