TX 1000 Wide Compact Utility Loader (22328)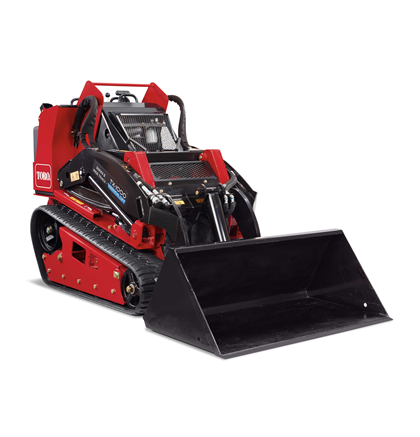 As the market leader, Toro has taken another giant step in innovation, performance and versatility with the TX 1000 Compact Utility Loader.
Designed with vertical lift loader arms, its 487.6 kg rated operating capacity delivers category-crushing performance that's an industry game-changer. The TX 1000 wide track also offers increased reach at full height for maximum jobsite productivity. And speaking of productivity, an 206 cm hinge pin height allows the arms to clear the side of a 23 m² dumpster or 1000 kg truck. This lightweight, manoeuvrable machine packs unmatched strength and reach in a compact package for the ultimate working advantage.


Toro TX 1000 Compact Utility Loader
The all-new TX 1000 Compact Utility Loader is in a class by itself, with a winning combination of compact size, strength and reach that the competition just can't touch. The innovative vertical lift loader arms are a Toro exclusive – specially designed to transport and lift heavier loads. Its 453.6 kg rated operating capacity means that the TX 1000 can handle big loads and still be lightweight and nimble. You'll also get greater lift height and improved reach when dumping into dumpsters or truck beds. The new Toro TX 1000 – it's the strongest compact utility loader yet, from our strongest lineup ever.
Engine

1300 cc Kubota® D1305 three cylinder, liquid cooled, diesel 18.5 kW (24.8 hp)

Track

Sprocket-drive, 6 road wheels per side. The tracks are Kevlar reinforced, endless rubber rings with 37 internal drive lugs. The outer tread on the tracks is a turf friendly S-shaped pattern with pitched crosscuts.

Track Traction

Dual hydrostatic pump

Track Width

24.1 cm

Wheelbase

104.1 cm

Fuel Capacity

41.64 litres

Ground Speed

7.6 km/h

Hydraulic System

Hydraulic Pressure: 3,000 PSI

Traction: 50.35 l/min (11.1 gpm imperial) each pump

Auxiliary: 57.5 l/min (12.7 gpm imperial)

Dimensions

Length: 256 cm with bucket, 208.3 cm without bucket

Width: 102.9 cm

Height: 138.1 cm

Maximum Operating Height

267.2 cm

Hinge Pin Height

206 cm

Dump Height

154.9 cm

Dump Angle

40-degrees

Reach - Fully Raised

62.5 cm

Weight

1,265.52 kg

Tip Capacity (As per SAE J732)

1,393 kg

Rated Operating Capacity (35% of Tip Capacity) As per SAE J818

487.6 kg

Ground Pressure (Traction unit only)

3.6 PSI

Warranty*

2 years/1000 hours limited warranty

*See your certified Toro dealer for full details on warranties.