TRX-26 Dedicated Walk-Behind Trencher (22974)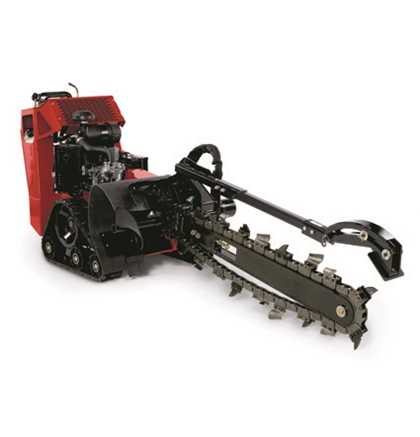 Request A Demo
The Toro TRX-26 walk-behind trencher redefines dedicated walk-behind trenchers, setting a new standard for ease of use – so intuitive and simple to operate with its TRX control system. It works faster and straighter than you would expect from a walk-behind trencher. The track drive design provides a low centre of gravity and large light footprint offering stability and increased maneuverability – without causing damage to existing turf. The TRX26 walk-behind trencher also makes valve box installation a snap with its ability to cross-trench without damaging trench sidewalls.
Engine

26 hp Kawasaki® FX730V, 4-cycle, air cooled, V-twin

 

Fuel Capacity

18.2 Litres

Steering

Toro TX patented control system

Track

15 cm wide-endless nylon reinforced rubber track

Dimensions

Length: 210 cm (boom up)
Width: 85.9 cm
Height: 116.8 cm

Warranty*

2 years/1000 hours limited warranty

*See your certified Toro dealer for full details on warranties.