Reelmaster® 5610-D (03678)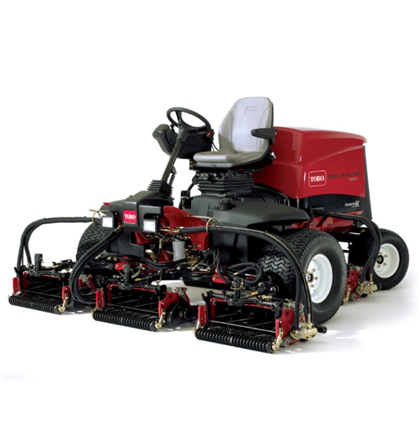 The Reelmaster® 5610-D is designed to deliver the performance you've come to expect from Toro. Built to handle the heavy work load pass after pass and year after year, the 44.2 hp (33 kw) turbo engine provides the muscle to get the job done with power to spare. The 5610-D comes standard with the larger 17.8cm (7") diameter 8 or 11 blade cutting units.
Enhanced climbing ability made possible by the CrossTrax™ all-wheel drive system. The CrossTrax™ system is based on the Toro patented Series/Parallel™ design. If one of the front tyres begins to slip, power is transferred to the opposite rear tyre for optimum traction.
The Dual Precision Adjustment (DPA) cutting units - featuring Toro's all new EdgeSeries™ reels combine to deliver a consistent, high quality cut and superior after cut appearance, while reducing maintenance with improved reel edge retention.
Engine

44.2 hp (33 kw) Kubota®, 4-cylinder, diesel

Cutting Width

254 cm

Fuel Capacity

51.1 litres diesel 

Transport Speed

0-16 km/h

Mowing Speed

0-12.8 km/h

Height of Cut

6.35-25.4 mm

Traction Drive

4WD, CrossTrack™ all-wheel drive system

Controls

Foot operated controls: Forward and reverse traction pedal, mow/transport speed limiter.

Steering Control

Power steering, isolated circuit

Seat

Deluxe suspension

Tyres

Front: 26.5 x 14-12
Rear: 20 x 12-10

Dimensions

Height: 160 cm  
Overall Width: 294.6 cm 
Transport Width: 233.7 cm 

Weight

1,300 kg

Warranty

2 years limited warranty. Refer to operator's manual for further details.