Reelmaster® 3100-D with Sidewinder® (03171)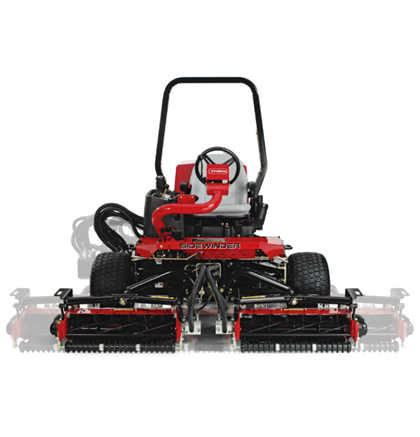 When you need a reel trim mower whose cutting quality and versatility is second to none, the Toro® Reelmaster® 3100-D is the clear choice. It's the only reel mower with Sidewinder® technology that slides the cutting units side-to-side, on the fly, to reach turf that other mowers can't. It's perfect for mowing around greens and bunkers where precision control is a must. Add the EdgeSeries™ reels - DPA cutting units and triplex configuration, and the 3100-D is the best reel trim mower on the market.
Engine

21.5 hp (16 kW) Kubota® liquid-cooled diesel, 3-cylinder 

Cutting Width

183 cm or 216 cm 

Fuel Capacity

28 litres

Transport Speed

0-14 km/h

Mowing Speed

0-10 km/h

Height of Cut

6.35-63.5 mm

Traction Drive

Series/Parallel hydraulic traction circuit provides continuous 3-wheel drive

Controls

Forward and reverse traction control pedals, mow/transport lever, hand activated park brake, ignition key switch, tilt steering wheel lock, PTO switch, throttle, joystick control for cutting unit raise and lower and for moving cutting units side-to-side on Sidewinder equipped model, cutting unit transport lock, reel speed and backlap control knob.

Steering Control

Power steering with tilt steering wheel

Tyres

Front: 20 x 12-10, 4-ply Turf Tread
Rear: 20 x 10-10, 4-ply Turf Tread

Cutting Unit Configuration

Operator controlled moveable cutting units travel ±30 cm left or right from center; total of 61 cm of infinite variability.

Dimensions

Height: 180 cm with ROPS
Length: 236 cm
Wheel Base: 142 cm
Transport Width: 203 cm in 183 cm WOC; 234 cm in 216 cm WOC

Weight

Approximately 844 kg with cutting units

Warranty

2 years limited warranty. Refer to operator's manual for further details.