653 ACCU-MASTER Reel Grinder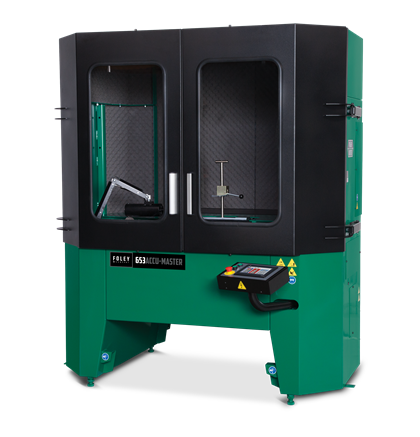 Quality-of-cut and performance of your equipment is priority number one.
This is why we've engineered our 653 to grind however you want, so whether doing quick "touch-up" spin grinding or returning the reel to manufacturer specifications, nobody does either with more quality and efficiency than Foley.
653 ACCU-MASTER Offers:
Automated In-Feed Grind Cycles for both the spin and relief grind process separates Foley from all others! The  ACCU-Touch 3 control innovations continue making grinding easier than ever.
Two Minutes to Spin Grind is all it takes when distinguishing technician time from grind time. Let the ACCU-Touch 3 do the work while you do something else.
Hands-Free Relief is the feature that has courses around the world opting for grinders that do more than just spin grind. Foley automation of in-feeds and the patented auto-index provides productivity and choice that other grinders don't.
Automatic Placement features the ACCU-Reel Selector and  Cylinder Height Stop system that automatically locates the reel for a fast and easy placement to spin and relief grind in one set-up. 
Three models available:
FO6530919 : ACCU-MASTER 653 Reel Grinder - Front Load
FO6530949 : ACCU-MASTER 653 Reel Grinder - Slotted Top
FO6530929 : ACCU-MASTER 653 Reel Grinder - Rear Doors