Rainspray® GW25 Travelling Irrigator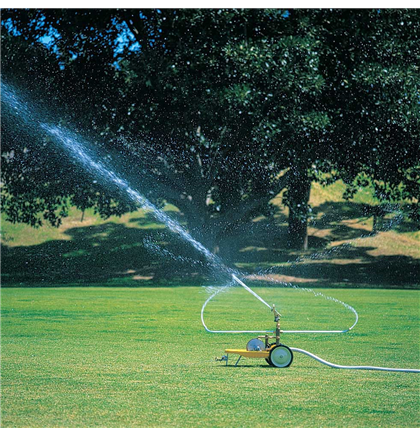 The Rainspray® GW25 Travelling Irrigator is a water powered cable/hose travelling sprinkler able to water up to 120 metres by 35 metres at each setting.
Note: Allowance should be made for prevailing wind conditions when selecting distances between traveller runs. When calculating pressure head requirement, ensure the friction loss of the hose and valve head loss is added to the sprinkler operating pressure to obtain the pressure required at the valve, e.g. if operating the sprinkler at 300 kPa: Head required at the valve point is 300 + 125 (hose loss) + 30 (valve loss) = 455 kPa.
Order hose separately.
| | |
| --- | --- |
| Brass, bronze and aluminium construction | |
| Stainless steel drive arms | |
| Fitted with Typhoon Impact Sprinkler | |
| Drive arm jet size, 8/64" | |
| 1000 kPa hose operating pressure. | Minimum safety factor of 4:1 to allow for pressure surges and variation in temperature essential for long performance. |
| | |
| --- | --- |
| Golf Courses | |
| Sports Ovals | |
| Large Turf Areas | |